Blogs
Always In Fashion, Chanel Stages Feminist Rally
By
|
Feminism has been getting a lot of attention in the press lately, first with Beyonce's VMA display, then Emma Watson's viral UN speech, and now with a fashion show!
For those not inclined to stare longingly at clothes you can't afford, this week was Paris Fashion Week — the last in the string of "Big Four" fashion weeks that began in New York on September 4. At home in Paris is one of the most renowned labels ever to be declared couture: Chanel. What began in 1909 when a young woman nicknamed "Coco" opened a small shop in Paris, has since grown into a multimillion dollar brand headed by the infamous Karl Lagerfeld. The native German director of Chanel has long had a reputation for highly staged and over-the-top runway shows, and this year was no exception.
While the 2015 Chanel line looked relatively familiar: 1970s-inspired sweaters, pant suits, and even sunglasses all featuring the signature Chanel logo, its runway show closed not with the usual parade of models, but with a full-on rally complete with signs and blow horns. Suddenly, those 1970s styles took on a whole new connotation: emulations of second-wave feminist icons like Gloria Steinem, Germaine Greer, and Kate Millet.
While the display was an impressive one, with famous supermodels like Gisele Bundchen and Cara Delevingne leading the charge, many responded with confusion and skepticism:
did chanel even bother looking up the definition for feminism before using signs saying "boys should get pregnant too" and "be different"

— anna (@aaselfie) October 1, 2014
I think Chanel / Karl Lagerfeld's feminism walk wasn't genuine. They should've done more research rather than using it as a marketing tool — Sam Fazz (@SamFazz) October 1, 2014
I cannot take Chanel portraying feminism as a statement seriously. Lagerfeld is notorious for degrading women based on their appearance.

— n. didonátti (@bonvivantx) September 30, 2014
I know it's really early, but seriously Karl. Faux Feminism? #chanel #pfw

— kiwi mohamed (@kiwispeaks) September 30, 2014
I couldn't help but be skeptical myself. Some of the signs the models held had little to do with modern feminism: "Ladies First," "Boys Should Get Pregnant Too," and "Divorce Pour Tous" (which translates to "Divorce For All") rang distinctly of the misandry that feminists try so hard to separate themselves from. They also contradicted signs like "Match the Machos" and "Free Freedom," which are true feminist mottos. No wonder people were confused!
In addition, Karl Lagerfeld has made headlines before by commenting harshly on women's looks. The most referenced incidents are his fat-shaming the singer Adele and saying that Pippa Middleton "should only show her back."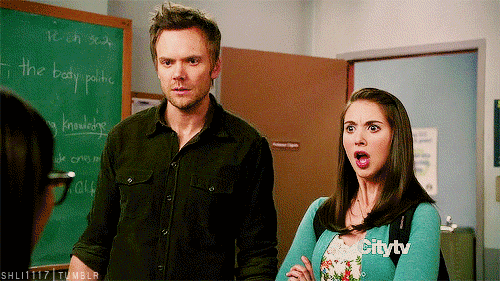 Saying things like that is definitely not okay, but does he do it because he hates women or because he makes a living by selling the fashion world's concept of beauty? It's hard to tell.
I think it's safe to say that, whatever Lagerfeld's personal motivations are, the feminist rally was little more than a publicity stunt. Even so, Chanel is a brand that started out by breaking rules. Coco Chanel may have never called herself a feminist, but she freed women from what was acceptable or "feminine" for women to wear during her time. It's thanks in part to Chanel that we aren't expected to cinch ourselves into corsets!
In the end, the staged rally might not have had the purest motives, but it keeps feminism in the news and continues the conversation. Plus, those references to feminist icons have been noted and shared, and models like Cara Delevingne — a self-declared feminist — will continue spreading true feminist values through her fan base. Could it have been done better? Oh yes. Will it end up helping feminism? Only time will tell.
—
Morgan McMurray (@mcflurrybatman) is a freelance copywriter and blogger based in Savannah, Georgia. She spends her time writing, reading, and attempting to dance gracefully. She has also been known to binge-watch Netflix while knitting scarves.
Featured image courtesy of [arpad ikuma via Flickr]