Image courtesy of [Beth Rankin via Flickr]
Politics
Conservatives Don't Like Gun Control, So They Mock Obama's Tears
By
|
"It is always encouraging to see American citizens focusing on the really important parts of big political events," she says with heavy sarcasm. During his speech yesterday morning announcing new executive actions on gun control, President Obama outlined several facets of his new initiative to make guns safer and harder to obtain. He also teared up when referencing the mass shooting at Sandy Hook Elementary School.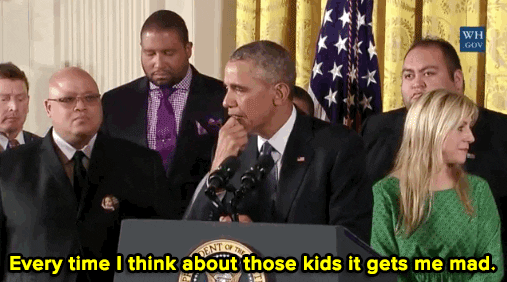 Guess which part conservatives are choosing to focus on.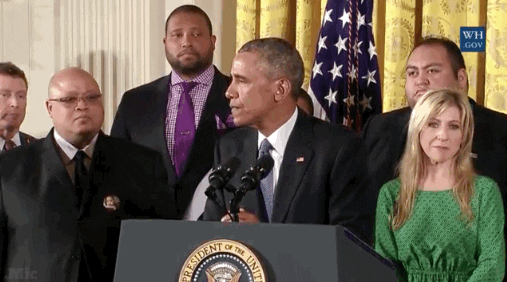 In case you've forgotten, the Sandy Hook shooting, which took place in 2012, ended with 20 elementary students and six staff members dead. Today, President Obama was introduced at the podium by Mark Barden, the father of one of those victims.
But apparently, crying while remembering the elementary school students who were slaughtered at Sandy Hook is a sign of weakness, psychopathy, and fake sadness.
He never once cried over death of vets, babies murdered abortion Obama cries announcing gun control | Daily Mail https://t.co/8mwsmrkWaj

— dawn goodfallow (@dawngpsalm63) January 6, 2016
When Obama cries, he can't even do that right. pic.twitter.com/6GzZv62ezs — Bart Bartlett (@BartBuzz) January 6, 2016
BREAKING: Obama talks about gun control. pic.twitter.com/UTey5uiRgo

— Ben Shapiro (@benshapiro) January 5, 2016
Near Obama right now… pic.twitter.com/AUKrSx7S7d — jimgeraghty (@jimgeraghty) January 5, 2016
There is just one word to describe this reaction from gun enthusiasts: childish. The speech Obama gave was over 30 minutes long, and trolls like those above and even people in the public eye like Fox News host Andrea Tantaros are focusing on about five seconds, using those seconds to call into question the President's sincerity and his ability to "contain his emotions."
Why is showing emotion on the same plane as showing weakness? And why wouldn't he get choked up at the thought of those children? Would these people complaining about his tears rather have a callous, robotic president who showed no care for anyone? Apparently.
The problem here is that there is nothing in his initiative that violates the Second Amendment. There is nothing that says he's taking guns away from everyone, and that's what right wing gun enthusiasts expected. Without that fodder for their Twitter feeds and Facebook timelines, what are they left to complain about? What could they possibly find wrong with the steps outlined in these executive orders? Nothing.
"I believe in the Second Amendment… it guarantees a right to bear arms," Obama said in his speech. "No matter how many times people try to twist my words around, I taught constitutional law… I get it. But I also believe we can find ways to reduce gun violence consistent with the Second Amendment."
So, naturally, in the absence of solid, substantial complaints, Obama haters have reverted to childish bullying. Unfortunately, as all bullies must learn, making fun of people does not get you what you want.